Why Choose
Commonwealth Surveying?

Simply put, we are very good at what we do!

Few professions require such exacting demands as those placed on a land surveyor. Many people underestimate the importance of accurate, up-to-date property surveys in terms of their legal and economic impact. On a surveyor's shoulders often rest the legal, contractual, environmental, and economic welfare of entire communities. Commonwealth Surveying takes this responsibility seriously by providing accurate,

Commonwealth Surveying is professionally licensed by the Commonwealth of Kentucky and utilizes only state-of-the-art G.P.S. robotic total stations, and the latest data collection technology available.We offer complete surveying solutions for any kind of commercial real estate development, municipal requirement, or residential needs.

We have experience with everything from multi-million dollar commercial/ industrial development projects to subdivision development to small residential property surveys.

Commonwealth Surveying looks forward to serving you in all of your survey needs.



When Is A Survey Needed?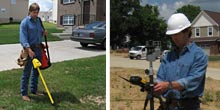 It is a good idea to have a property survey:

1. When buying, selling, investing in or developing property.

2. If a boundary location is unknown or unclear.

3. Before improvements are made (buildings, fences, excavation, etc.)

4. To stop encroachments from adjoining owners.

5.To establish easements and rights of way.

6. When timber is cut near a property boundary line.

7. When recommended by a lending institution (such as a mortgage inspection).

8.When dividing a large tract of land into a smaller tract or tracts.
What is a Land Property Survey?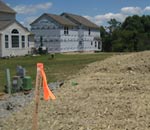 A property boundary survey is the result of an accumulation of evidence researched from known recorded and non-recorded documents, witness evidence, field survey measurements and deed computation analysis of the property. The information obtained for the survey could be used in placing the property corners, determining land area, locating improvements, determining encroachments, planning for future projects, preparing a survey plat and deed description and making legal presentations.